A little bit of what Lani's Is about...
Jainee's Collection
Jainee is my first dog and for my first dog I chose my once in a lifetime dog and never knew it. Jain has traveled all over the South-Eastern United States with me as my right hand companion, seen many barrel races, chased plenty of cows, and has lived her life almost to the fullest if you ask me. In late July 2023 Jainee was diagnosed with GME, (Granulomatous Meningoencephalitis) which is an acute, progressive inflammatory disease of the central nervous system of dogs. Statistics show that in the first year 50% of dogs will make it, in the second year 30% of dogs will make it, and if left untreated they most likely pass within one months' time. Each sale goes directly to Jainee's cause. We hope we can somehow make a difference in GME through awareness. I'm here hoping that cross or tag you buy hangs in your truck or is tied to your saddle going on adventures and places because I know one day that's something she won't be around to do. That gives me hope that she's there in spirit for every truck ride, rodeo, & trail ride there ever was.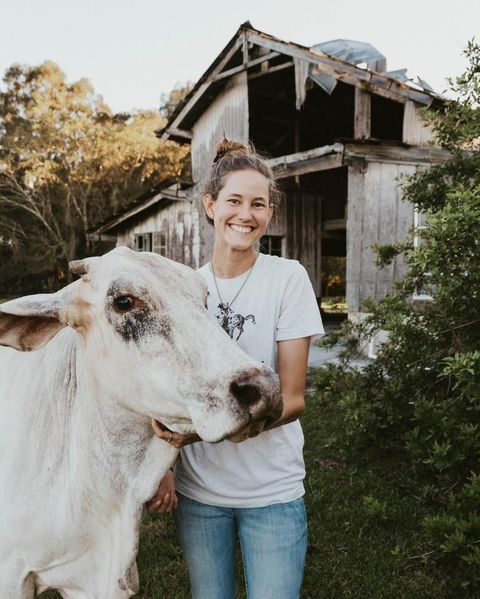 A Little Bit About Me...
My name is Victoria Brown & I'm from South-West Florida. I'm an honest kid just trying to make entry fees for the weekend. I am a first-generation cattle rancher, small business owner, Aussie dog lover, & performance horse enthusiast you could say! I have just recently made the transition to making Lani's my FULL time job! In my spare time, I'm riding my own horses, giving lessons, or tending to the livestock.  
I run barrels on a little sorrel mare named "Lani" hence the company! In 2015 Lani's mom unexpectedly passed away. We tried to get her to surgery, but we did not make it in time to the surgery center. My heart still breaks from that day. Lani has definitely stepped up to the plate to fill the very large shoes her momma left. She's for sure my heart horse! I run barrels across the southern U.S. and occasionally get strung along to a roping pen or two! But running barrels is more my style!
I try to make something that would fit everyone's liking, from the plain Jane to blingin' Betty! I've got something for everyone!
I stand behind my business 110%, so if for any reason you have any questions or concerns please feel free to call or text me! 239-405-5008
Please sometime life happens. I try my hardest to have my orders out in a timely fashion but sometimes things happen and I get a little behind! 
Please allow up to 2 weeks for conchos and up to 4 weeks for custom items. I will keep posted on my social media accounts (mostly Facebook) on how far out I am on current orders.
Refunds & Exchanging
We do not give refunds or exchange items. Once the order is placed there is nothing I can personally do. All orders are made to order, rarely do we keep stock. Thank you for your business. 
Testimonials
I ordered 3 sets of conchos from Lani's Custom Conchos, and I absolutely love them! A very high quality product and very pretty and shiny! I love my three sets that I ordered! They are very nice people to order from. I will definitely order from them again!

Bri Thomas
Just got my order - super fast shipping and I love the sugar skull pattern!!!!! Victoria was very polite and I will be doing business with her again!

Dale Chu
I ordered conchos and split reins and my goodness i love both. I am so picky and indecisive but Victoria waited until i FINALLY made my mind up. The reins are perfect. They have amazing feel and are the perfect weight.

Tori Lanier
I was very happy with my order. Very affordable price and was finished and shipped exactly when I needed it!

Rachel White